Drone captured geographic information is a new and exciting technology that has been employed to obtain cutting edge, high resolution graphical renderings of Build-Ready and Shovel-Ready tracts of land within the 4-Star Industrial Park located in Northwest Kentucky.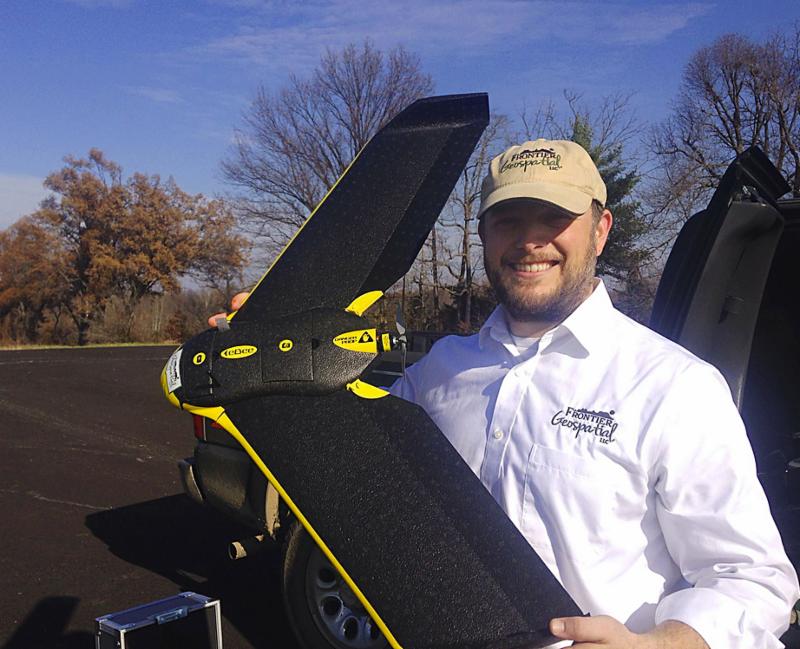 Greg Grabner, Senior GIS Analyst for Frontier Geospatial, LLC, displays the drone used to gather data at the 4-Star Industrial park.
Drone flights have been completed over Southern Star Way site, the first certified Build-Ready Site in the State of Kentucky and over the Sandy Lee Watkins site, a Shovel-Ready tract of land.
The data gathered during these flights represents the true geographical location and topography of the available land.
Amazingly detailed 3-d renderings have been created using the information gathered during the drone flights. High resolution
images as well as video renderings are now available and allow developers to view and interact with the land as never before.
| | |
| --- | --- |
| Southern Star Way Build-Ready site and tract 10 Tract Flight | Sandy Lee Watkins Shovel-Ready site Tract Flight |
Data collected during the drone flights includes 3D Video, Aerial imagery, CAD, DSM, GIS, and other advanced file types.
Also available are data files and resources which allow the true geographical data of the imaged land to be entered into CAD and other design programs and software
.
Such data allows for engineers, architects and land developers to virtually interact with the land in a true to earth-position virtual environment. This
ability saves on the expense of further surveying the land as well as gives decision makers the power to build speculatively on the property in a relative, 3-d rendered environment.
With a Build-Ready site, much of the work - other than actual construction - has already been completed. That includes having community control of the land to be developed, preparing a building pad (prepared ground/ soil/ environmental studies), conducting preliminary design work, including project costs and construction timeframes, obtaining approved site plan permits and having necessary utility and transportation infrastructure in place.
For more information about the data discussed, to request files for your review, for more information regarding these available properties or inquires about the many other sites and buildings available in Northwest Kentucky contact
Donna Crooks, Kyndle V.P. of Economic Development, via email at
Donna@Kyndle.us
or by phone
at
(270) 826 - 7505
.